ABOUT THE GALLERY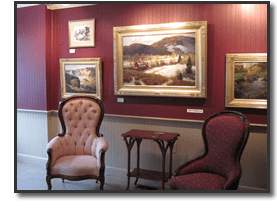 The Tom Nicholas Gallery, 65 Main Street, Rockport, Massachusetts (see map) opened in 1962. In June 2015, we celebrate our 54th season in Rockport. After two former locations, also on Main Street, our present and final gallery was acquired in 1990. We occupy the former Paper Store which was a landmark in town for newspapers, magazines and sundries.
Tom and his wife Gloria married in 1958. They both worked in Connecticut, he for the Famous Artists Schools, Westport and Gloria for the Perkin-Elmer Corporation in Norwalk.
After a painting demonstration given at the Rockport Art Association in 1960, Tom was offered an all expense two year traveling scholarship from the Elizabeth T. Greenshields Foundation, Montreal, Canada. Tom and Gloria visited England, France and Spain. On returning to America, Tom had his first New York City one-man exhibition. The success of this show induced them to leave their jobs in Connecticut and move to Rockport to open a gallery.
In December 1963, Gloria gave birth to their son T. M. Nicholas (Thomas Michael). After raising their son, Gloria became the manager of the gallery.
We hope you'll plan a visit. See our location and hours.